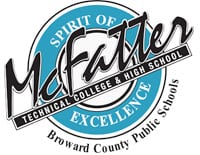 Need help Paying for School? If you're a Broward County resident you may be eligible to receive a scholarship for the entire amount of your tuition, books and supplies for occupational training here at Atlantic leading to an exciting high wage, in-demand career! Don't Delay! Text Today! Text "Future" to 55222.
How do I apply for financial aid?
The student, and/or parents of a dependent student submits a FAFSA application (Free Application for Federal Student Aid) to the application processor, or on-line at https://www.fafsa.ed.gov.
How long does the process take?
Normally about four to six weeks if you mail your application. If you apply online, processed applications are available in 2 weeks. You should apply as early as possible. If you apply online, be sure to complete your application with an electronic signature and PIN#. Apply for your PIN# at www.pin.ed.gov. The School Code for McFatter Technical College is 030036. 
How will I know how much aid I qualify for?
Upon completion of your Financial Aid file you will be given an award letter stating the type of aid, amount, and conditions of your award.
Do I have to pay my fees up front?
Yes, unless there is eligibility for financial aid. McFatter Technical College does not have a payment plan.
What happens if I decide to attend part-time?
Your aid may be reduced or canceled in some cases in order to comply with regulations or eligibility requirements.
Does McFatter Technical College do deferments for Federal Stafford Loans?
Yes, but we do not certify student loans.
How will my fees be paid and what happens to the money that exceeds my fees?
The student may pay the first term fees unless arrangements are made with the Financial Aid Office or if the student is elegible for certain grants. Actual disbursement of financial aid checks is a function of the Controller's Office as requested by the Financial Aid Office. Funds are disbursed twice in an academic year in the form of a check made out to the student. The amount  the student receives is the original amount of the check minus any tuition owed.
If my fees were deferred, what will happen with my financial aid?
The Controller's Office will deduct any tuition fees you owe the school and give you the balance (see previous question).
What happens if I don't do well in my classes?
Financial aid regulations require that you make satisfactory academic progress. Generally, you must maintain a C average, successfully complete your classes, and maintain attendance in accordance with Federal regulations. If you do not, you may be placed on probation or denied future assistance. You may appeal if denied.
How can I get information about my award?
You can come to the Financial Aid office to get the information. Due to the Privacy Act, only general information can be given over the phone.
The financial aid application asks for information about my parents but I do not receive any support from them. What do I do?
Federal regulations require your eligibility to be based on your income and that of your parents' unless you are 24 years old; married, or have legal dependents other than a spouse; are a veteran of the U.S. Armed Forces; an orphan or ward of the court (or you were until age 18); or will be working on a degree beyond a bachelor's.
What if I completely withdraw from classes, will I have to repay my financial aid?
Yes, if you withdraw before 60% of the term is completed, you will be required to repay a percentage of the aid you received since the funds were awarded to meet educational expenses for the entire payment period.
How to Apply for Financial Aid
1. Apply for a PIN # at www.pin.ed.gov. A dependent student must apply for a PIN # for their parent(s) also.
2. The student, spouse, and/or parent(s) of a dependent student, should complete and submit a FAFSA or renewal application at www.fafsa.ed.gov. You will need your previous year's income tax return or W-2 form to complete the application. ( NOTE: you should not be charged a fee to fill out the application. If you are on a website that charges a fee check the website address.)
3. Central Processing System electronically transmits the results the to the school on a document called the Institutional Student Information Record(ISIR)
4.  It is the student's responsibility to provide all necessary documentation needed to verify the application data or resolve conflicting information.
5. The Financial Aid Administrator establishes the student's Cost of Attendance (COA), determines the need, student's eligibility, and then awards the funding according to the federal guidelines.
6. The student receives an award letter.
7. Checks are available to students in the Registrar's Office during normal business hours. A picture ID is needed. Disbursements of awarded funds are made twice in the academic year.
Documents to download
Financial Aid How To Apply
IRS Form 4506-T