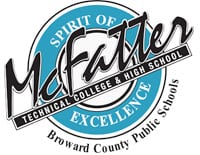 Admissions Requirements
Admissions Requirements
Schedule your Basic Skills test or provide official documentation for a Basic Skills exemption to your program counselor.
Schedule an appointment with your program counselor for Basic Skills test results and/or a program specific orientation.  Please note, programs under the following career clusters may have additional requirements for program admission:  Education & Training, Law, Public Safety & Security, and Health Science.
Register for classes during open enrollment.  Please be advised that registration runs on a first come, first served basis.
Additional information regarding the Admissions Requirements may be obtained by contacting the Office of Admissions at (754) 321-5700.
Admissions Information
Eligibility
Students are accepted on a non-discriminatory basis from anyone having the interest, ability, and desire to benefit from an occupational training program.  Pursuant to Florida Statute 295.125.(2), veterans are given preference within the enrollment process.
Basic Skills Testing
Appointments for testing must be scheduled in advance with the Registration Office (Administration Building).  There is a $15 nonrefundable assessment fee for testing.
Testing Schedule:
Tuesday & Thursday:  8:00 am
Tuesday:  5:00 pm
Please arrive at least 15 minutes prior to the start time of your scheduled tests.  You must have a valid government photo identification to participate in testing.
Basic Skills Exemptions
Students who meet one of the following options, are eligible for a Basic Skills exemption:
Students who possess a college degree at the associates level or higher.
Students who entered 9th grade in a Florida public school in the 2003-2004 school year, or any year thereafter, and earned a standard high school diploma.
Students who have attained the minimum scores within two (2) years prior to admission into a program on the 2014 GED®.
Students who have demonstrated program readiness by achieving or exceeding standard test scores (PERT, ACCUPLACER, SAT, and/or ACT) within two (2) years prior to admission into a program.
Students who are serving as an active member of any branch of the United States Armed Services.
Tuition & Fees
Tuition is set by the State of Florida.
Applicants must provide documentation showing 12 consecutive months of Florida residency to be eligible for in-state tuition rates.  Tuition for out-of-state students is calculated at a higher rate.
Registration, activity, supply, and insurance fees are included in the calculation of total program costs.  Books and supplies are separate from tuition and fees.  Tuition and fees are subject to change without notice.
Methods of Payment
Registration, tuition and testing fees may be paid by cash, debit/credit card, money order or cashier's check. The College is not permitted to cash personal checks or checks under $25.
We also accept Florida PrePaid College Plans and Bright Futures Scholarships at McFatter Technical College.
Refund Policy
School Board Policy 6607 governs refunds of all programs.
All refunds shall be accounted for and audit trails maintained in accordance with Business Practice Bulletins issued by the Office of the Chief Financial Officer.
Students who appear at the school in person and voluntarily withdraw within five (5) school days of the beginning of a term shall be entitled to a full refund of tuition, student activity fee, fee-supported cost recovery, and lab/supply fees.  Registration fees and Health Science Education fees are non-refundable.  Five (5) school days shall not apply to courses less than three (3) weeks or ninety (90) hours in duration.  In such cases, the request for withdrawal must be made prior to the course meeting more than one-third (1/3) of its' assigned hours.  Retention of fees collected in advance for a student who does not enter class shall not exceed $100.  Refunds will be made within forty-five (45) days of the date on which the student voluntarily withdraws.
Students involuntarily withdrawn pursuant to the Adult Student Conduct and Discipline Code are not entitled to a refund of any fees.
Students who pay fees but are entitled to a waiver, voucher or agency payment (refer to Policy #6606) shall be entitled to a refund of fees only if required evidence is presented to the school/college principal or his/her designee within fifteen (15) school days of the beginning of the term.
In the case of unusual or extraordinary circumstances (such as illness, death in family, etc.) that preclude a student's enrollment, the school principal or his/her designee may honor a request for full or partial refund of fees providing that:
The request is made in writing prior to the date that the course would have normally ended.
Supporting evidence (where appropriate) is provided.  If said refund results in a failure to satisfy state fee requirements, the student shall not be reported for membership during the Workforce Education Fund survey period in the course for which the refund is given.
Students who feel they have been treated unfairly in the application of this policy or its rules may appeal using the students' grievance procedure as presented in the Broward Technical Colleges Student Handbook.
Refunds, when due, will be made without requiring a request from a student.
Refunds, when due, will be made within forty-five (45) days:
of the last day of attendance if written notification of withdrawal has been provided to the school/college by the student, or
from the date the school/college withdraws the student or determines withdrawal by the student.
A student is entitled to a full refund of fees if a course is canceled by the school/college principal or his/her designee, provided however, that the student was not reported in membership during the Workforce Education Fund survey period in which the class was counted.  If so, only those fees in excess of the state requirements shall be refunded.
Miscellaneous items purchased from the school bookstores (textbooks, uniforms, etc.) may be returned for a full refund provided that the items are unused, in the original packaging and currently being used in the instructional program.