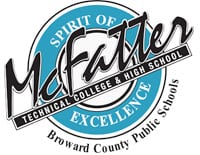 Getting Started at McFatter Technical College
HOW DO I GET STARTED?
| | |
| --- | --- |
| 1. | Schedule the Test of Adult Basic Education (TABE) or provide official documentation of a TABE exemption to your program counselor. |
| 2. | Schedule an appointment with  your program counselor for TABE results and/or a program specific orientation.  Please note, programs under the following career clusters may have additional requirements for program admission:  Education & Training, Law, Public Safety & Security, and Health Science. |
| 3. | Register for classes during open enrollment.  Please be advised that registration runs on a first come, first served basis. |

FREQUENTLY ASKED QUESTIONS ABOUT THE TEST OF ADULT BASIC EDUCATION (TABE)

Q|  How do I get started?
A|  Appointments for testing must be scheduled in advance with the Registration Office (Administration Building).  There is a $15 non-refundable assessment fee for testing.
Q|  Who must take the Tests of Adult Basic Education (TABE)?
A|  Students who wish to attend McFatter Technical College or the Broward Fire Academy are required to take the TABE or present documentation for a TABE exemption.
Q|  Can I transfer my TABE scores from another institution?
A|  Yes, students may transfer their TABE scores from another institution if they are from a regionally accredited intuition and have not expired.
Q|  How long is the testing session?
A|  Testing is approximately 2 1/2 hours. Please plan to arrive at least 15 minutes prior to the scheduled test time
Q|  What do I need for my scheduled tests?
A|  Students must bring a valid government photo identification and their registration receipt to participate in testing
Q|  What if I need accommodations for testing due to a disability?
A|  If you are an adult with a documented disability who needs accommodations for testing, please contact the Disability Services Office at (754) 321-5822 prior to testing.
Q|  How do I obtain my tests results?
A|  Students must schedule an appointment with their counselor or advisor to obtain their tests results. Tests results will be not provided by the Test Examiner or through electronic communications (phone, fax, text, or email).
Q| How long are my TABE scores valid?
A|  Passing TABE scores are valid for 2 years. In order to retake a section of the test, students must first attend Adult Basic Education (ABE) or Applied Academics for Adult Education (AAAE) classes.
Q|  What if I do not pass the TABE?
A|  Students who have the ability to benefit from attending a non-licensure program while attending remediation, will be admitted to the program while completing remediation.
Testing begins promptly at the scheduled times. Doors will close at the beginning of each testing session to ensure an uninterrupted testing environment.
McFatter Technical College reserves the right to ask any applicant to retest to validate scores.
ADDITIONAL INFORMATION
Counseling
Counselors/Program Advisors and other Student Services staff members assist prospective and current students with general information, career-related, school-related and personal concerns.  The general objective is to provide students with services necessary to make informed career choices and successfully complete their occupational education.  For additional information on counseling and advisement, click here.
Disability Services
McFatter Technical College assures students with disabilities equal access as described in Section 504 and 508 of the Rehabilitation Act of 1973 and in compliance with the Americans with Disabilities Act Amendments Act of 2008 (ADAAA).  Disclosure of a disability is voluntary.
A student must satisfy the definition of a disability as established by the Americans with Disabilities Act of 1990 and Section 504 of the Rehabilitation Act of 1973.  Section 504 defines a disability as a condition which substantially limits one or more major life activities such as learning, walking, seeing, hearing, breathing, caring for oneself, and working.  To be eligible for accommodations, a student must provide appropriate documentation of each disability that demonstrates an accompanying substantial limitation to one or more major life activities
To obtain services and accommodations, current documentation is required (within 5 years) and must be presented to the Office of Disabilities.  For additional information on Disability Services, click here.
Career Services
At McFatter Technical College, assistance is provided to current and former students in obtaining employment, enrolling in further education, or a combination of these two.  This requires careful assessment of the student's abilities, aptitudes and interests.  Instructors work cooperatively with our Career Service Specialists to ensure successful employment for McFatter's students.  Students are encouraged to seek employment assistance from their instructors, our Career Services Specialists, and from vacancies posted on McFatter's College Central online job board.  For additional information on Career Services, click here.