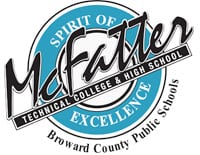 International Student Information
Prospective international students may enroll and attend classes at McFatter Technical College.  Please click on the International Student Handbook link below and read the information on the admission process.   CLICK HERE to view a list of all approved Career Technical Education programs and program costs offered to International Students by Broward Technical Colleges.
International Student Advisor
Vera Alvarez-Fernandez
754-321-5737
vera.alvarez@browardschools.com
Affidavit of Support
Affidavit of Support Sponsor Living Abroad
Self-Sponsoring Affidavit
USCIS website (Form I-134) used for sponsors who are permanent residents, or citizens of the United States.
Please click on the links below to download the following documents:
Handbook
Admission Process
Registration Process
Registration Process for Health Programs
Proof Of English Proficiency
Approved Programs for International Students
International Student Application
International Student Personal Information
Dependent Information
Form I-134
Affidavit-Sponsor Living Abroad
Affidavit- Self Sponsoring
International Student Travel Authorization Request
Affidavit of Support- Room and Board