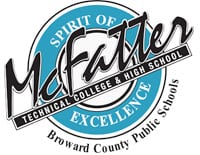 MTC Campus General Information
William T. McFatter Technical College is a division of the School Board of Broward County, Florida.
VISITORS AND PARKING
Parking is available on the east and west side of the campus. Visitors are welcome to park in any space except those designated for staff or handicapped. Designated "No Parking", "Staff Only" and fire lane areas must be observed and will be enforced by school security.
Visitors must sign in at the reception desk in the Admissions Office in Building #1 (first entrance from the east side Davie Road parking lot) and receive a Visitor's Badge.  Visitors are not permitted in classrooms without prior approval.
Parking space is provided for students on the east and west sides of the campus. A parking registration bumper/window sticker must be obtained and displayed in clear view on vehicle. Tags are available in the Bookstore and the cost is included in the student activity fee. All tags are valid for the school year beginning July 1 and ending on June 30.
HEALTH, SAFETY AND SECURITY
To ensure maximum safety and security, McFatter Technical College employs a Security Specialist and a Davie Police Officer who patrols the campus during class hours, day and evening. Cameras positioned around the campus provide 24-hour surveillance.
Emergency procedures are made available to all personnel.  These procedures outline the precautionary measures that must be taken in the event of a bomb threat, fire, civil disorder, hurricane, tornado, injury or illness.  In addition, each laboratory / shop has emergency first aid supplies and a plan of evacuation is posted in every classroom.  At the beginning of each term, the evacuation procedures are reviewed and periodic drills are held. Units of safety practices are incorporated in the course of study for all programs.
INSURANCE
Voluntary in-school insurance is available to adult students for a nominal fee.  Each student should carry her/his own hospitalization insurance if not covered by school insurance.  Information is available in the Bookstore for those wishing to purchase student insurance coverage.  Secondary students may purchase insurance from McFatter Technical College or from their home high schools.
CLINIC
Facilities for students who become ill are located in the Medical Building (Building #2).
McFatter Technical College is a non-smoking campus.
TRANSPORTATION
Try carpooling, taking the bus, riding the train and the SFEC shuttle, biking, or walking to school!  South Florida Commuter Services can help you find a carpool partner, provide you information on Broward County Transit, Tri-Rail, and the FREE SFEC Shuttle, and also help you bike or walk more safely to school.  Click here for more details.