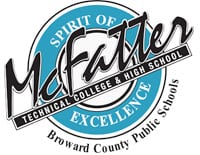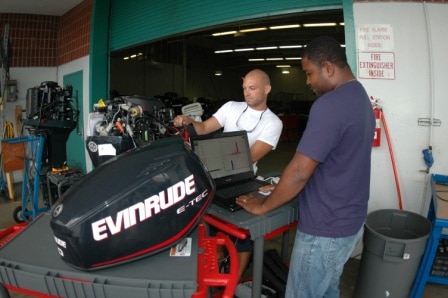 Marine Service Technologies
NEXT CLASS BEGINS August 19, 2020 (Click Here for more information)  
Program Description:
The Marine Service Technologies course will prepare students for a career in the pleasure boating industry by providing students with the skills necessary to diagnose, overhaul and repair crafts of 50 feet and under and their outboard engines.  The student will cover such topics as Marine Rigging, Outboard Engines, Fuel Injection Principles, Stern Drives and basic knowledge of Electronics Installation and Inboard Engines.  Students must exhibit the strong reading, math, and computer skills necessary to be successful in the program, and must possess a solid mechanical aptitude.
Program Information:
| | | |
| --- | --- | --- |
| PROGRAM NUMBER | PROGRAM TITLE | PROGRAM LENGTH |
| MTE0003 | Marine Rigger | 300 Hours |
| MTE0090 | Outboard Engine Technician | 300 Hours |
| MTE0074 | Outboard Engine Diagnostics | 150 Hours |
| MTE0092 | Inboard Gas Engine Technician | 300 Hours |
| MTE0093 | Drive Train Technician | 150 Hours |
| MTE0056 | Inboard Diesel Technician | 150 Hours |
Schedule the Tests of Adult Basic Education (TABE) or provide official documentation for a TABE Exemption.
Schedule an appointment with your program counselor for TABE results and/or a program specific orientation.
Register for classes during open enrollment.  Please be advised that registration runs on a first come, first served basis.
Program Hours and Schedule:
1350 Hours/12 Months/Hybrid
Monday-Thursday 8:00 am – 2:30 pm
Friday – Online
Industry Certification and Licensure:
Evinrude Certification
Mercury Certification
Yamaha Certification
Employment Opportunities:
Electrician
Electronics Installer
Inboard Diesel Technicians
Inboard/Stern Drive Gasoline Technicians
Marine Riggers
Outboard Engine Technicians
Parts Personnel
Service Writers
Accreditation:
For information about national and program accreditation, please contact the institution.
Program Costs:
Approximate Program Cost – $5,873.00
Out of State Approximate Program Cost – $17,213.00
Fees are based on the number of class days according to the Broward County Public Schools' calendar.  Tuition and fees are subject to change without notice.
Counselor for Marine Service Technologies
Mary Barone,
(754) 321-5840