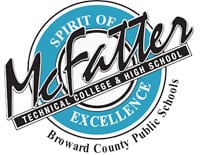 Scholarship Applications
McFatter Technical College Foundation Scholarship
The McFatter Foundation Scholarship Fund awards dollars (a minimum of $500) to current McFatter Technical College and Technical High School students who are about to graduate for the purpose of continuing their education at an accredited post-secondary institution. Students will only be able to receive scholarship dollars one time.
The criterion for selection is:
• Good moral character and community involvement
• Scholastic aptitude and performance
• Achievement in their technical program, and
• Two recommendations from an instructor, counselor or employer
Scholarships will be granted for enrollment at an accredited college/university located within the United States and must be expended by June 30, 2019. Funding will be paid directly to the receiving institution for undergraduate studies or professional education & training, not the student.
IMPORTANT: This original application must be typed for legibility purposes, the hard copy, and original signature page, will be submitted to front desk (Admissions office) in care of Lynn Goldman, the McFatter Foundation Scholarship Coordinator, no later than 12:00 p.m. on May 10, 2018. Incomplete or late applications will not be considered. Award notification will be made on May 24, 2018.
Click below to download the application.
McFatter Technical College Foundation Scholarship interactive application
Broward Women's Alliance (BWA) Scholarship
The Broward Women's Alliance is an organization that awards scholarships to benefit women who need support and encouragement for professional development through higher education opportunities. Women should apply who have chosen a specific educational path to assist them in achieving economic self-sufficiency and participation in the workforce.  The dollar amount and number of scholarships awarded varies from year-to-year depending on the generosity of our donors. This year they are planning to award no fewer than five scholarships of $1,000 each.  The scholarships must be used by the recipient for tuition and fees. Scholarship applications may be submitted through the postmarked deadline of April 6, 2018.  Award letters will be sent by regular mail on May 6, 2018. You can learn more information about the Broward Women's Alliance at http://www.browardwomensalliance.org/    Click below to download the application.
Horatio Alger Scholarship (Due 6.15.18)
The Horatio Alger Association seeks to assist students who have demonstrated integrity, perseverance in overcoming adversity,
strength of character, financial need, commitment to pursue career or technical certification/degree, and a desire to contribute to
society.
These files requires Adobe Reader to view.
Click the button below to download Adobe Reader.