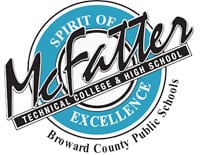 McFatter Technical College Media Center
6500 Nova Drive, Davie, FL 33317
754-321-5700

Monday – Thursday: 8:00 am – 6:00 PM
Friday: 8:00 am – 4:30 pm
SUMMER HOURS:
Monday – Friday 9:00 am to 4:30 pm.
Valid Student ID is required to enter and use the Media Center.
ONLINE CATALOG SEARCH (Click on words below):

COPYRIGHT/FAIR USE AND INTELLECTUAL PROPERTY
MISSION
The mission of the Media Center is to encourage and support life-long learning, literacy, and independent thinking.  The media specialist works with students, teachers, and staff to ensure that they are effective users of ideas, information, and technology.