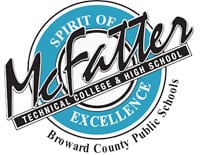 Baking and Pastry Arts
COMPLETE IN 6 MONTHS!! NEXT EVENING CLASS BEGINS JANUARY 9, 2018 (Evenings only)

McFatter Technical College's Baking and Pastry Arts program prepares students to work with bakery and dessert goods including fruit, nuts, and various types of dough.  The program includes advanced baking techniques, dessert preparation, confectionary techniques, and display and centerpiece creation. the Baking and Pastry Arts program focuses on preparation for employment as pastry chef in the food service industry.  This program offers a sequence of courses in preparation, presentation and serving a wide variety of baked, pastry, and dessert goods.  Leadership, communication, and employability skills as well as safe/efficient work practices are also covered.  Baking and Pastry Arts is a blended class, with portions on-line and portions on campus.  Hands-on activities are completed in the lab on campus.  Academic activities are a blend of lectures, videos, demonstrations and on-line curriculum.
Entrance Requirements/Procedures:
Take the TABE test and attend orientation.
Set up an appointment with Ms. Franzie Williams to receive your TABE test results by calling (754) 321-5814.
If needed, register for remediation courses:  Adult Basic Education (ABE) or Applied Academics for Adult Education (AAAE).
Complete the 2016-2017 online FAFSA application at www.fafsa.ed.gov and contact the Financial Aid Office at (754) 321-5738 or (754) 321-5804
Please bring a 2015 tax transcript and official high school transcript when meeting with the Financial Aid Department.
Register for the Baking & Pastry Arts Program.
Total Program Length:    600 Hours/6 Months/Hybrid
Program Schedule:
Students enrolled in distant and/or hybrid courses should have daily access to a computer with internet and must have a valid e-mail address that they check daily.  Additionally, student should have all necessary hardware and software components required by their technology program or adult education course.
Full Time Evenings – Monday thru Thursday  4:30pm – 10:00pm
Friday – Online

Accreditation:
Council on Occupational Education
Contact Information:
Mrs. Franzie Williams, Counselor for Baking and Pastry Arts
(754) 321-5732 or (754) 321-5700
franzie.williams@browardschools.com
Approximate Total Program Cost – Tuition and Fees*:
Florida Resident   $2326.00
*Prices are subject to change without notice.
Click Here to download a PDF brochure for complete information including costs.