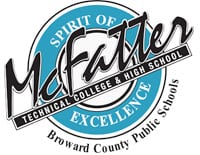 Transcript Request 
Please use the link below to download a transcript request form.
Transcript requests can be returned to McFatter Technical College via e-mail, fax or US mail.
STEP 1. DOWNLOAD AND SAVE – Transcript-Request-Form
STEP 2. COMPLETE FORM BELOW AND SUBMIT WITH ATTACHED FORM AND PHOTO ID.
Transcript Request -Pick Up By 3rd Party
Adobe Reader is required to view the pdf file above.
If you do not already have Adobe Reader, click on the icon below.