TEAS® Preparation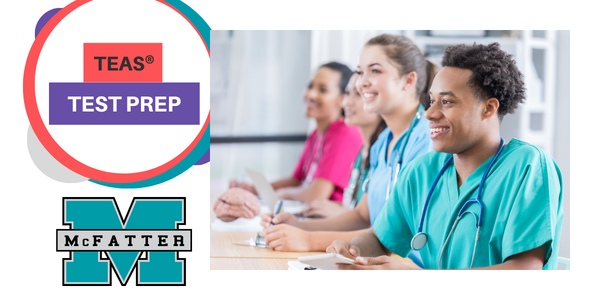 Tests of Essential Academic Skills (TEAS®) Preparation Course:
In order to help students prepare for a passing score on the ATI TEAS®, which is required for admission to the Practical Nursing (PN) program, a comprehensive preparatory course is offered.  This course will focus on Reading, Math, Science, and English concepts and skills.  This is a self-paced course with multiple live remote classes throughout the week, combined with online resources.  The average time to complete the full preparation class is six to eight weeks spending 12 hours / week, but varies by the individual.  All students must first take a basic skills test to enroll in the course.
TEAS® Preparation Enrollment Requirements:
Schedule a basic skills assessment ($15) with the Registration Office.
Schedule an appointment with your program counselor (see contact info below) to review your basic skills assessment results.
Register for TEAS® Prep classes ($50) with the Registration Office.
Schedule and Fees:
| Period | Days of Week | Time | Hours | Fees |
| --- | --- | --- | --- | --- |
| Class | Monday – Friday | 8:30am - 11:30am | 15 hours per week | $30 |
| Class | Monday – Friday | 12:00pm - 3:00pm | 15 hours per week | $30 |
| Online | varies | varies | 12 hours per week | $30 |
There is a one time a year activity fee of $20*
*Schedule and fees are subject to change without notice.
Scheduling for the TEAS® exam:
 Contact your program counselor for test registration information.
 Register for testing ($68). Please be advised that test fees are subject to change without notice.
 A study guide can be found below.
Upcoming 2023 ATI TEAS testing dates:
October 4  | 11  |18
November 1 |  15
December 6  |  20
Contact Information:
Ms. Rachel Victor, Certified School Counselor
(754) 321-5753
[email protected]
The Council on Occupational Education (COE) does not accredit avocational programs such as ESOL, ABE, GED®, ASB, and TEAS.  In addition, these programs do not qualify for Title IV financial aid assistance.
Adult General Education classes trimester calendar: