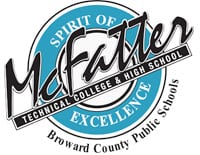 Drafting
Program Description:
Drafting is often called the "universal language of industry".  Whether you are an inventor, an architect, or an engineer, communicating your ideas clearly and precisely to others if vital to having them become reality.  Technical drawing is the bridge between those ideas and production.  CAD (Computer Aided Drafting) knowledge and a command of the graphical language is essential to every project.  Every member of a project team is able to communicate and coordinate, through the language of drafting, a precise set of instructions for manufacturing or construction.  Manufacturers and contractors then rely on those drawings either to produce the next groundbreaking project or build the next skyscraper.  At McFatter's CAD drafting studio, we introduce you to the basics of drafting before guiding you into more complex techniques through the use of state-of-the-art software, including AudoCAD, Revit, and Solidworks.  The drafting program provides you with a solid background to act as a stepping stone for advancement in the related career of your choice.  Students will receive instruction in the classroom and will practice hands-on-skills in the drafting studio, which is equipped with the latest tools and equipment to deliver the program curriculum.
Program Information:
| | | |
| --- | --- | --- |
| PROGRAM NUMBER | PROGRAM TITLE | PROGRAM LENGTH |
| TDR0070 | Introduction to Drafting | 150 Hours |
| TDR0370 | Drafting Assistant | 450 Hours |
| TDR0775 | Drafting Detailer 1 | 150 Hours |
| TDR0776 | Drafting Detailer 2 | 150 Hours |
| TDR0570 | Architectural Drafter | 150 Hours |
| TDR0874 | Civil Drafter | 150 Hours |
| TDR0777 | Mechanical Drafter | 150 Hours |
| TDR0875 | Structural Drafter | 150 Hours |
Schedule the Tests of Adult Basic Education (TABE) or provide official documentation for a TABE Exemption.
Schedule an appointment with your program counselor for TABE results and/or a program specific orientation.
Register for classes during open enrollment.  Please be advised that registration runs on a first come, first served basis.
Program Hours and Schedule:
1500 Hours/15 Months/Traditional
Full-time:  Monday – Friday, 8:00 am – 2:30 pm
Part-time:  Monday – Friday, 8:00 am – 11:00 am
Industry Certification and Licensure:
AutoDesk-Certified User – AutoCAD
AutoDesk-Certified User – Revit
AutoDesk-Certified User – Inventor
Certified SolidWorks Associate
AutoCad Certified Professional
ADDA
Employment Opportunities:
Architectural Drafter
Civil Drafter
Mechanical Drafter
Structural Drafter
Electrical Drafter
Automotive Design Drafter
Aeronautical Drafter
Marine Drafter
Landscape Drafter
Technical Illustrator
Interior Design Drafter
Accreditation:
For information about national and program accreditation, please contact the institution.
Program Costs:
| | |
| --- | --- |
| Florida Resident Tuition | $4,200.00 |
| Out of State Tuition | $16,800.00 |
| Registration, Activity, Lab, Test, Insurance, and Trust Fees | $475.00 |
| Books / Supplies | $507.00 |
| Industry Certification & State Credential Exam Costs | $90.00 |
| Florida Resident Total Cost | $5,272.00 |
| Out of State Total Cost | $17,872.00 |
Fees are based on the number of class days according to the Broward County Public Schools calendar. Tuition and fees are subject to change without notice.
For additional information, please contact the Office of Admissions Counselor for Drafting:
Mary Barone, Certified School Counselor
(754) 321-5840 or [email protected]
Drafting Maintenance Refresher Course begins each term (for experienced drafters):

Fall 2020 – dates to be announced soon.