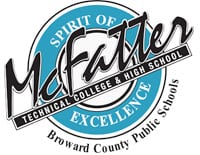 Fork Lift Certification
Let McFatter Technical College certify you to drive a fork lift through the National Safety Council/FLI Learning Systems, Inc.  You will receive classroom and hands-on training.  Certification includes operation training definitions from OSHA and NIOSH.  Fine tune your operational skills and refresh your understanding of safe fork lift operating procedures.  Certificate is valid for 3 years.
PREREQUISITE:  Some fork lift knowledge and experience as a driver.
THIS COURSE IS ON A FIRST COME, FIRST SERVED BASIS. YOU MUST REGISTER IN PERSON, AT LEAST ONE DAY IN ADVANCE OF CLASS.
McFatter Technical College
Forklift Schedule
2021-22
ESOL Room 862
7:30 AM – 2:00 PM
$44.00
10 Students Maximum
May "27"
June "10"/"24″
July "8"/"22″
August "5"
Industry Certifications Available
Total Course Length:  6 Hours
Fork Lift Certification through the National Safety Council/FLI Learning Systems, Inc.
Accreditation:
The Council on Occupational Education (COE) does not accredit avocational courses.  In addition, these courses do not qualify for Title IV financial aid.  For additional information on accreditation, please contact the institution.
Contact Information:
Mary Barone, Certified School Counselor
754-321-5700 or [email protected]
Approximate Total Cost of Program – Tuition and Fees:
Florida Resident:  $44.