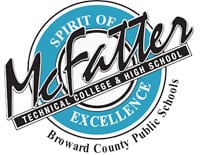 How to Apply
Application Procedures
Postsecondary Students
Applicants for technical programs must attend one of the departmental orientations which are scheduled on a weekly basis. Individual counselor interviews are scheduled following each orientation program to discuss test results, program placement, special needs, and registration procedures. Referrals to the Applied Academics for Adult Education (AAAE) Center are made if minimum basic skill levels have not been achieved. Registration for postsecondary students is held three times annually (August, January, and June).
Secondary Students
Applicants must complete an Application for Technical Center Enrollment through their high school guidance counselor. The completed application is forwarded to McFatter Technical College along with a copy of the student's transcript. Students are accepted on a space available basis. All high school applicants are scheduled for a counselor interview with their parents.
Orientation
Orientation is scheduled with individual program counselors.   Each session is limited.  Orientation provides information pertaining to curricula, costs, entry requirements, support services, financial aid, and general institutional policies.
Registration Information – Postsecondary Students Only:
Each semester has a $30.00 non-refundable registration fee (lab fee, and applicable insurance fee for Health Science Programs).
There is an annual $10.00 Student Activity Fee.
Tuition and lab fees are subject to change by the Florida Legislature and/or the Broward County School Board.
Semester length is 18 weeks.
Classes are subject to cancellation is minimum enrollment is not met.
Proper I.D. for testing is required.  Example:  Valid Florida Drivers License, valid passport and/or a valid Florida I.D.
Fees listed are for Florida residents
NOTE:  Students enrolling in all programs must provide 2 proofs of Florida residence (1 year living in the state) in order to be eligible for the Florida Residency fees.  Veterans are exempt from non-resident fees.
ESOL requires a photo ID at the time of testing and registration.  Listed are some examples of acceptable proof:

Valid Florida's Drivers License
Florida Voter Registration
Florida Vehicle Registration

NEW – In-State Tuition Requirements for Select Immigrant Florida High School Graduates:


CLICK ON THE BLUE LINKS BELOW TO READ THE REQUIREMENTS, INSTRUCTIONS AND FILL OUT THE FORM: In State Tuition Requirements for Select Immigrant Florida High School Graduates Declaration Letter from
:
In State Tuition Requirements for Select Immigrant Florida High School Graduates Declaration Letter
Guidelines for Florida Residency for Tuition Purposes:
Guidelines for Florida Residency for Tuition Purposes